Filing for Divorce in Montgomery County, TX
Legal Divorce Help in The Woodlands & Houston
Whether papers have already been filed or you are considering your options, choosing the right lawyer to represent you in your divorce is essential.
At Parchman Law Group, our experienced family lawyers are well-versed in the many complex issues that can arise during the divorce process. Should you choose to hire our firm, you can rely on us to assist you with many tedious decisions. If you have children with your spouse, we can help you stay focused on making decisions in their best interest.
Our firm offers Farsi and Spanish speaking services. Learn more or to request a free consultation – contact us online or call (713) 364-0777 today! We proudly serve The Woodlands, Houston, and all of Texas.
What Are the Grounds for Filing for Divorce in Texas?
In Texas, the law states that marriages can be dissolved on grounds of no fault. This means couples can agree to divorce equally, whereas if one of the spouses committed adultery, cruelty, was guilty of abandonment, or some other fault, there can be a divorce on grounds of fault.
Every single divorce is different and no matter how similar two cases may seem, our firm is committed to providing a personalized approach. We know that divorce can be logistically and emotionally taxing, which is why we're here to answer your questions and guide you along the way. Should a more complex issue arise, you can trust that we are prepared to handle a wide variety of family law cases.
A few divorce-related issues that we assist clients with include:
Reasons Why You Need a Lawyer for Divorce
Divorce is a big decision that is made even more complicated by the emotions you still feel for each other and the physical and financial remainders of the life you built with each other. The existence of those complexities is precisely why you should be consulting with our top divorce firm. No matter how amicably you have handled your divorce, there is too much at stake to leave the result up to the courts—and then, of course, there are the big five: the five reasons you definitely need to hire a lawyer to handle your divorce.
Kids. The number one reason is your kids. When you have those tiny humans depending on you, you need to do what it takes to ensure that their lives post-divorce are as secure as they were when you were married. That means addressing custody arrangements, visitation, and, especially if one parent gets primary custody, how far away you want those kids to be moving to stay with the other parent. This all gets more complicated when other partners become involved, or if you are trying to maintain visitation with children from your ex's previous relationship. A lot needs to be done to ensure the best interests of the children remain the focus. Our lawyers will make sure that happens.
Financial security. It doesn't matter how amicable your breakup is, if you both contributed your own finances towards building a life together, then separating while ensuring that each party maintains what they need and what they have earned can be complicated. Parchman Law Group can help you both sort out those details so no one feels the settlement was one-sided.
The power of the co-sign. Did you own bank accounts together? Do you both have your names on the lease of the house? Did you buy a car together? And what about the family dog? When you are married, things stop being "hers" and "mine"; the division between who owns what gets cloudy. Your attorney can help divide and complete the paperwork on co-owned property and accounts so neither of you feels slighted by the agreement.
Clarity and conclusiveness. It doesn't matter how amicable this is; it's still an ending, and that means it's emotionally upsetting and stressful. Your attorney can ensure those emotions don't lead to mistakes and unwanted blow-outs. They can also ensure that all legalities are clear, and that all of the Ts are crossed so there is no confusion and no possibility for the other person to bring a grey area to your attention in the future.
Avoiding the delays. We can also ensure all paperwork is filed correctly and on time so there will be no delays following the proceedings.
The Steps of Filing For Divorce in Texas
First Step
Texas has several courts, but you will need to find the family court that is located in the county where your spouse currently lives. He or she must have lived in that county for at least 90 days before you will be able to file a petition for a divorce. The state will only have jurisdiction in your divorce if you or your spouse have been residents of Texas for at least six months. Once you locate the correct court, you may initiate divorce proceedings.
Second Step
Next, you must prepare the divorce petition that you are going to file with the court. This will be an original petition in which you will state the reasons that you wish to dissolve your marriage. The petition will list the children that you and your spouse had during the marriage along with the property. You will file the original divorce petition with the county's District Clerk's office, along with two copies. This will require that you pay a fee.
Third Step
The next step is to contact your spouse and let him or her know that you filed a divorce petition with the court. You may do this by hiring a process server to serve the papers on your behalf, but you can also get a waiver of citation that will allow the Respondent to confirm that he or she received the petition. This eliminates the need for a process server to provide an affidavit for the court that confirms that the papers were delivered to the Respondent.
Fourth Step
There will be a waiting period in which you will be able to agree on the terms of your divorce. In Texas, the judge is required to wait two months before he or she can intervene in the negotiation process. This is the time when both parties will split their assets, decide how much alimony one spouse deserves, child support, and child custody. All issues will be resolved at this time, if possible.
Fifth Step
After the negotiations are complete, the couple can draw up the "Final Decree of Divorce." This document will contain the agreements negotiated during the waiting period. The court may not be required to review the decree, but the parties to the divorce will meet with the court's administrator to determine whether or not this will be necessary.
Sixth Step
The last step in the divorce process is scheduling the final hearing. The district clerk's office will be the one to schedule this hearing that will be held before a judge. If both spouses agree on the significant issues, the judge may only need to ask each person several questions before he or she signs the divorce decree.
What to do if Served Divorce Papers
If you have been served by your spouse, it's important to follow these steps right away:
Read the papers right away and take notice of the deadlines
Talk to a divorce attorney, as they can explain in detail of what is transpiring
Decide how you will respond - either by filing an answer or by petitioning with a counter.
Is There a Deadline to File an Answer?
If you have been served divorce papers, you will have approximately 20 days to respond. If you choose not to reply, your spouse may finalize the divorce without additional notice. The court deems this "default judgment".
Contact Parchman Law Group Now for a Consultation
Divorce is never a simple or emotionless process, even if you are going through an uncontested divorce. No matter your circumstances, Parchman Law Group is here to help you every step of the way. We understand the emotional turmoil and difficult decisions you may have to make. Our knowledgeable lawyers strive to protect your best interests while working towards your ultimate goal.
Further Reading: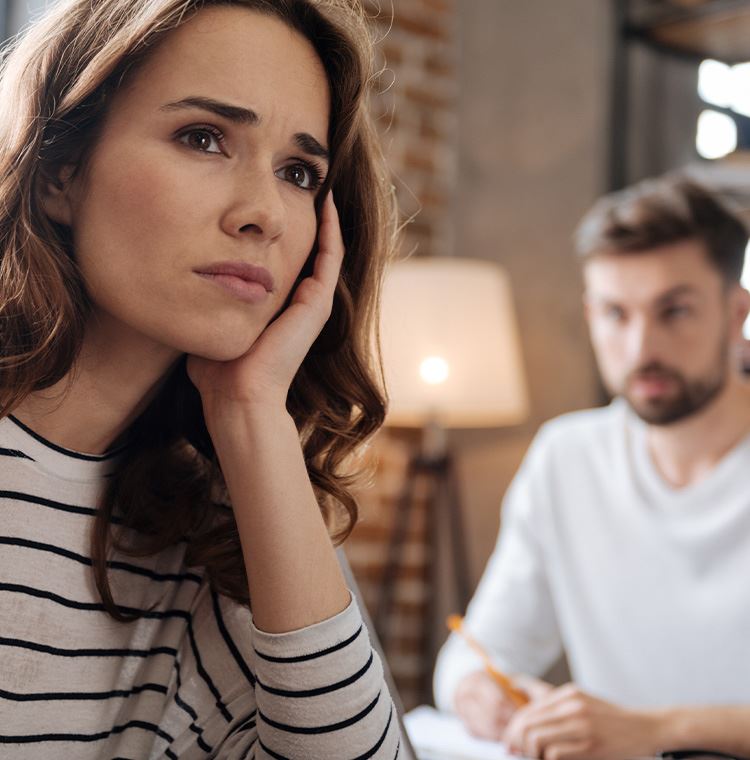 Why Choose Parchman Law Group P.L.L.C.?
We Are Committed To Getting The Best Possible Outcome For You
Focused On Client Needs & Meeting Your Goals

Dedicated Legal Assistance

No Cost Initial Consultation

Assistance in English, Spanish & Farsi

A Diligent & Aggressive Approach To Fight For You Rights